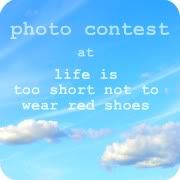 I was really excited when I heard about Polka Dot's Portrait contest
cause I love taking pictures of people!!!
*********
But as I was looking through all my portraits, I realized that some of the best ones was some
senior portraits my sister took of me.
So this is actually my sister entering. Not me. So if one of these wins, the prize goes to her.
Thanks for hosting this Polka Dot, you rock girl. :)